Motorpoint partners with Sandwell Parents for Disabled Children
24 April 2018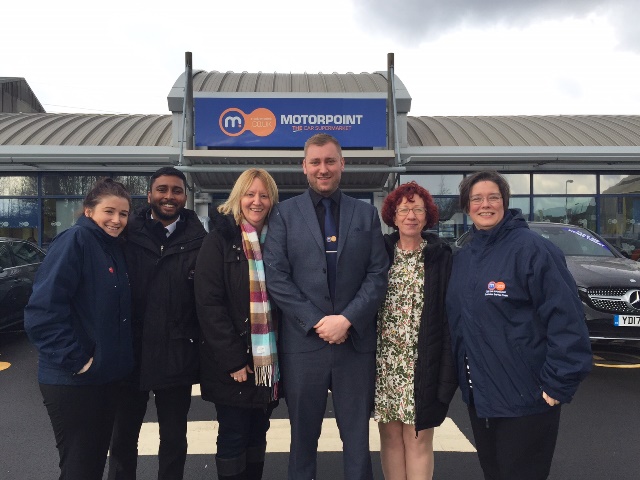 Photos © 2021 Motorpoint
Motorpoint Oldbury has adopted the Sandwell Parents for Disabled Children as its charitable partner
"We're proud to be teaming up with Sandwell Parents for Disabled Children and support the amazing work that they do in the region"
The Oldbury branch of the UK's leading independent car retailer, which is located at 100 Churchbridge, will support the work of the popular charity for a minimum of 12 months. The 50-strong workforce at the Motorpoint branch recently voted to give their backing to the registered charity, which was originally founded by volunteers in 2003.
Based at the Old Vicarage in West Bromwich, Sandwell Parents for Disabled Children works to give every disabled child or young person in the borough full access to a range of play and leisure opportunities. Last year it supported over 250 disabled children participate in everything from athletics, football and table tennis to hydrotherapy, sensory rooms and trampolining.
John Forster, General Manager of Motorpoint Oldbury, explained: "We're proud to be teaming up with Sandwell Parents for Disabled Children and support the amazing work that they do in the region. My colleagues are looking forward to volunteering their time over the coming weeks and months as well as hosting lots of different events onsite to raise as much as money as possible for this much-loved charity."
Linda Lloyd, Events Co-ordinator at the Sandwell Parents for Disabled Children, added: "We are extremely grateful to Motorpoint for adopting us as their charitable partner. We're already working a number of fundraisers over the next few monthswhich we are sure will provide very popular with people of all ages in the area."
Motorpoint Oldbury, which opened in July 2016, stocks over 500 new and nearly new low mileage cars from 30 different manufacturers. It also offers customers extensive free parking, free Wi-Fi and a café open seven days a week.
In the community
Motorpoint is proud to work with Sandwell Parents for Disabled Children. For more info on the work they do, please visit https://www.sp-dc.org/.
Press releases
For all media enquiries please contact Stephen Wright, PR Manager on 01332 227239 or 07825 308326. Alternatively by email.