MOTORPOINT FREEZES INTEREST RATES TO HELP CAR BUYERS AS COST-OF-LIVING CRISIS DEEPENS
06 July 2022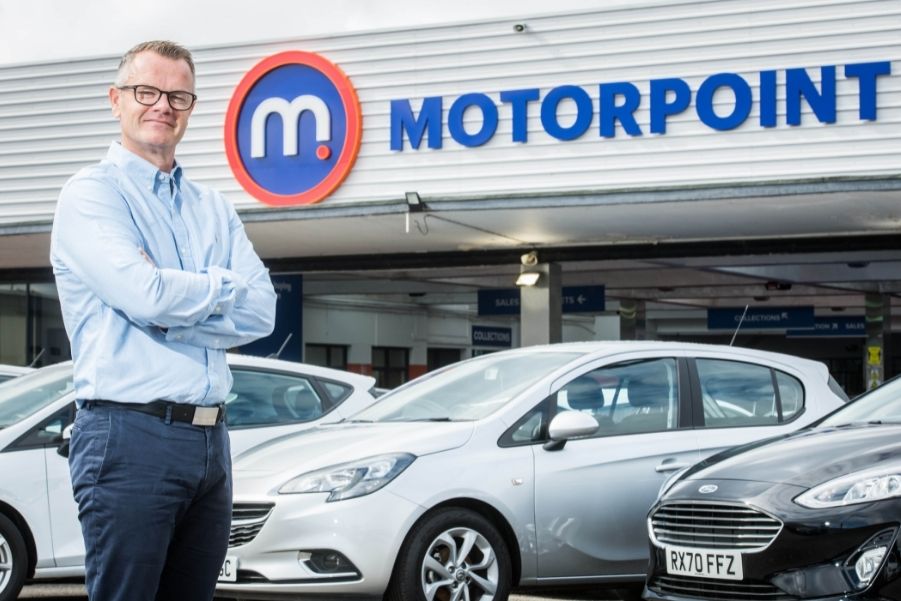 Photos © 2022 Motorpoint
Motorpoint – the UK's largest independent retailer of nearly new and used cars – has capped finance interest rates at an industry leading 8.9% APR in a bid to help its customers through the pain of the cost-of-living crisis.
CEO Mark Carpenter committed the business to the rate for at least the next three months as UK inflation continues to soar and a further slump in new car sales looks set to drive car prices even higher.
He made the pledge as the latest data from the Society of Motor Manufacturers and Traders (SMMT), released yesterday, showed a 24.3% year-on-year fall in new car registrations in June, making it the weakest month since 1996.
The results rounded off a dismal six months for the new car sector, with global supply shortages contributing to the weakest registration numbers in three decades. This will further fuel demand in the already overheating used car market, driving prices up further.
Carpenter said Motorpoint lives up to its promise to be the car buyers' champion by helping its customers achieve the best choice and value wherever possible.
And he urged anyone thinking of changing their car in 2022 to act now to secure best rates and fix their monthly repayments while they can.
"Our company values are 'proud', 'honest', 'happy' and 'supportive' and for 24 years we have set our stall out to offer our customers the best value and the best service.
"For us these are not just soundbites, we genuinely believe them, and so we cannot sit back and do nothing while our customers are struggling to make ends meet."
He added: "As a car dealer we were faced with two choices in the current climate – put our prices up or make a lower profit by passing savings onto our customers.
"We have chosen the latter option without hesitation as our entire business is based on honesty, transparency and value."
Carpenter continued: "The cost of financing through a car dealer or borrowing from a bank is going up and we've decided to hold ours at an 8.9% APR, which is one of the lowest in the market and to hold it there for the next three months.
"This means that customers who act quickly and buy at Motorpoint today can fix their monthly repayments for the next three to four years and will have the security of knowing their monthly finance payments won't rise, even as inflation does."
­­­­ENDS
FURTHER INFORMATION - Delia Goldsby, PR Manager, Motorpoint
M: 07500 042586 E: delia.goldsby@motorpoint.co.uk
NOTES TO EDITORS
Motorpoint is the UK's largest independent car retailer specialising in the sale of low mileage, nearly new cars. Motorpoint was established in 1998 and employs over 900 people across the UK.
Motorpoint has stores in Birmingham, Manchester, Birtley, Burnley, Castleford, Chingford, Derby, Glasgow, Newport, Oldbury, Peterborough, Sheffield, Stockton-on-Tees, Swansea, Widnes, Maidstone, Portsmouth and soon to be Edinburgh.
Motorpoint is a Carbon Neutral Company.
Every vehicle comes with either the remaining manufacturer's warranty or the Motorpoint Warranty. Each vehicle goes through a stringent safety check and is available to drive away the same day using our Reserve and Collect service.
Motorpoint guarantees Unbeatable Prices for its customer with prices checked every day by our Motorpoint pricing experts.
Motorpoint Price Promise: Motorpoint is committed to making car buying easy which is why, backed by the Motorpoint Price Promise, Motorpoint will also refund the difference to any customer within seven days of their order if they find the same car from a competitor. As a bonus, Motorpoint also give the customer £50 worth of Amazon vouchers to spend.
Motorpoint also offers a home delivery service covering the whole of the UK mainland for those customers who would prefer not to visit the branch, backed by its 14-day hassle- free, money back guarantee
Motorpoint has been named a Feefo Platinum Service Award winner for 2020
For more information on Motorpoint visit motorpoint.co.uk
You can find us on our social channels over on Twitter, Facebook and Instagram by using hashtag #Motorpoint.